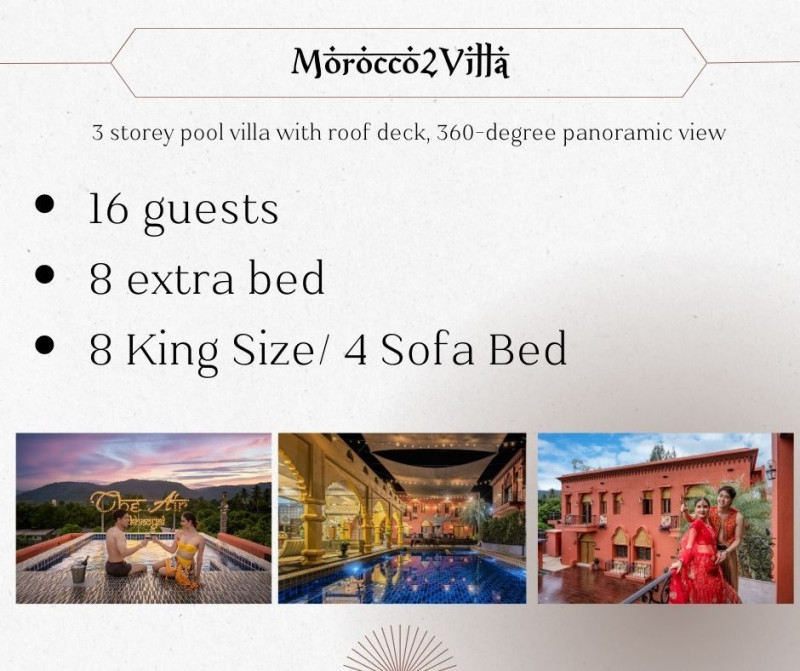 Morocco 2 Villa (Pool Villa Moroco Style)
A luxuary Moroccan styled house with more than 400 meters useful space surrounded by nature and mountain view. Spacious 130 square meters rooftop terrace allows you to enjoy party with a private swimming pool on the rooftop. It is elaborately decorated in Moroccan style that gives the sense of uniqueness.
A 2-storey house decorated in Moroccan style consists of 4 bedrooms and 4 bathrooms. Each room has the area of 8*7 meters, excluding terrace, and has private bathroom with bathtub and rain shower with hotel-standard equipment and facilities such as fridge, microwave, TV and cable, hairdryer, and free WiFi. Karaoke room providing 20,000 songs and lobby building are also provided. You can enjoy rooftop swimming pool with Jacuzzi where you can appreciate 360-degree panoramic view of mountains or party with friends or family on a 115 square meter rooftop terrace where you can collect unforgettable memories.
#KhaoYaiNationalPark #khaoyaiaccommodation #cheapkhaoyaiaccommodation #khaoyaihotel #khaoyai #khaoyairesort #khaoyaipoolvilla
Morocco 2 Villa
A luxury resort decorated in Moroccan style is suitable for a large group of 16-24 persons.
2-storey house with spacious rooftop
4 bedrooms, a King Bed can add an extra bed (King Size) can add another 4 beds
4 bathrooms with bathtub in each room
Lobby building
Reception building for karaoke
Dinner and Cooking
Private parking space
Rooftop swimming pool and swimming pool in front of the house