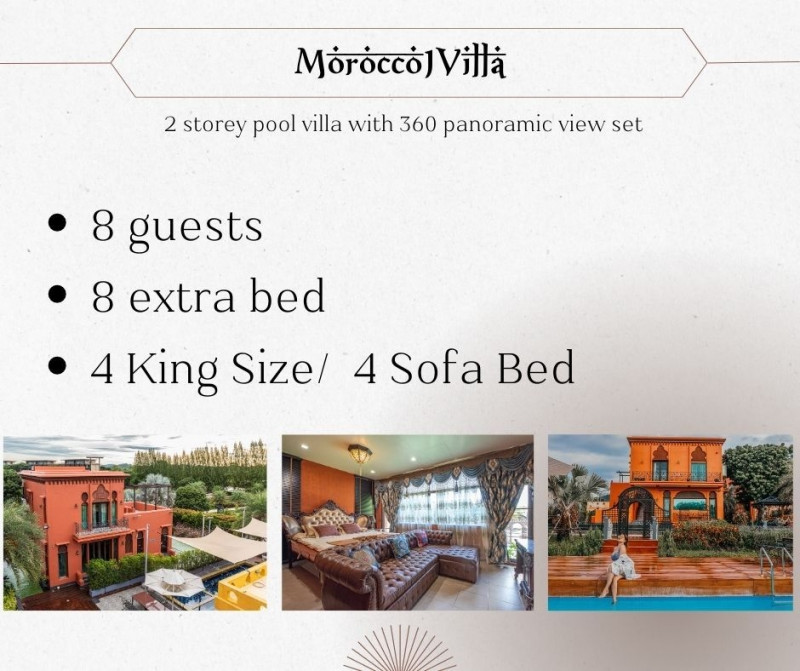 Morocco 1 Villa (Pool Villa Moroco Style)
Moroccan styled house with more than 430 meters useful space surrounded by nature and mountain view. Spacious 140 square meters rooftop terrace allows you to enjoy party. It is elaborately decorated in Moroccan style that gives the sense of attention to detail and uniqueness.
A 2-storey house with roof top glamorously decorated in Moroccan style consists of 3 bedrooms and 2 bathrooms. There is a large open-air swimming pool5x10 meters. with 360-degree panoramic rooftop. The house is comprised of 3 bedrooms with 4 king-sized beds that can accommodate 8 persons. 3 extra sofa beds are optional, resulting in a maximum stay of 16 persons. One spacious kitchen is provided with complete set of kitchenware for your cooking time. One large living room is full of entertainment devices such as TV, cable, karaoke
#KhaoYaiNationalPark #khaoyaiaccommodation #cheapkhaoyaiaccommodation #khaoyaihotel #khaoyai #khaoyairesort #khaoyaipoolvilla
Morocco 1 Villa
A luxury resort decorated in Moroccan style is suitable for a large group of 8-16 persons.
2-storey house with spacious rooftop
3 bedrooms with king-sized beds and optional extra beds
2 bathrooms and 1 shower room with bathtub
1 large fully equipped kitchen
1 living room and karaoke
Private parking space
5x10 meters swimming pool (saltwater)