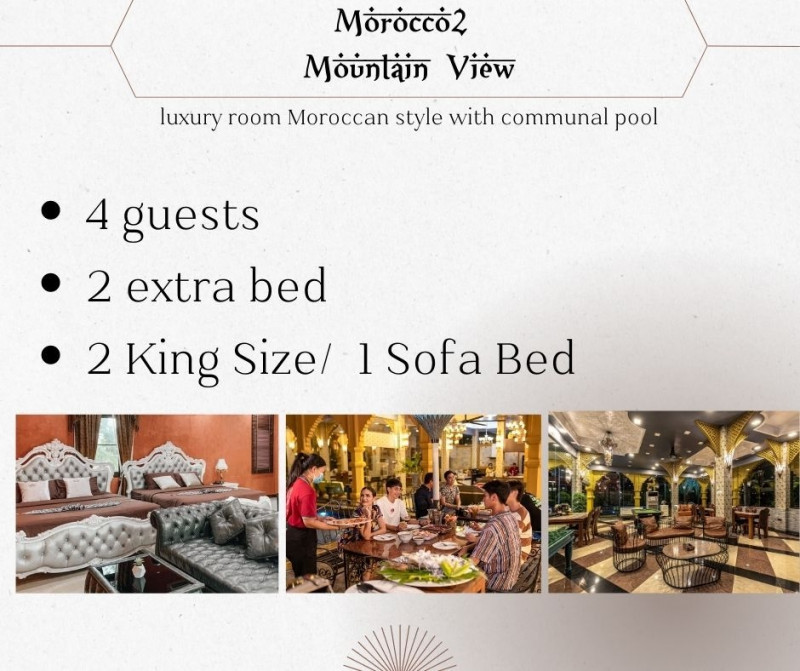 There are 2 types of Morocco2 Mountain View & Pool View rooms:
- 2 upstairs bedrooms (Mountain View), en-suite bathrooms with bathtubs, balcony views
Upstairs, the room is a viewing deck. with Jacuzzi swimming pool
- 2 bedrooms on the ground floor (Pool View), en-suite bathroom with bathtub, open the door to see the pool view
- Open for stays only on Sun. - Fri. (except Saturday)
- Interior decoration in every room is the same
- Every room has a king size sofa bed (can add 2 more people)
common area
- "Restaurant" All booking customers Access to the common dining room play pool table for free
but no karaoke available
- Microwave, hot water kettle, plates, bowls, spoons, glasses, common areas can be used as usual
- Using the kitchen to cook For customers who reserve 2 rooms or more only By signing up to reserve the time to use the kitchen in advance with the housekeeper only.
- Large swimming pool 5x10 meters on the ground floor and a swimming pool from Gucci on the rooftop 4x4 meters at the Morocco2 deck as a common area.